Student Bulletin for Tuesday, November 9, 2021
Pam Hutchison
Tuesday, November 09, 2021
Happy Birthday to Silvia Moreno!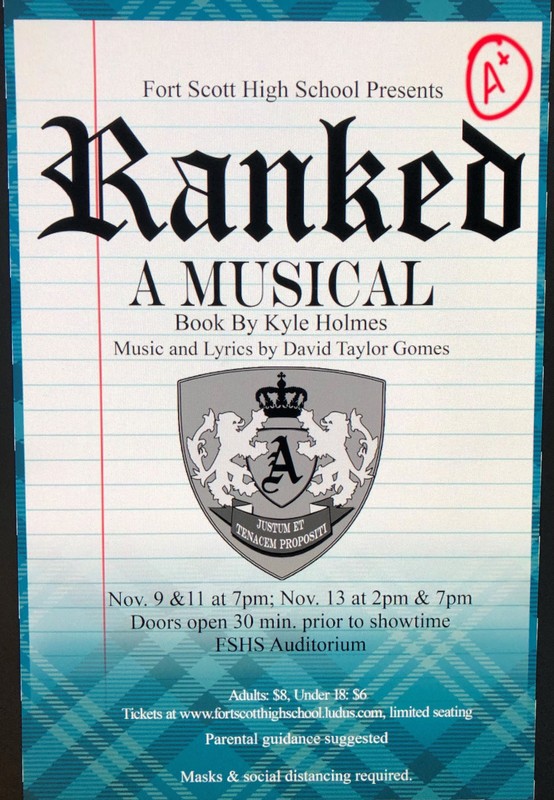 The curtain rises on the first of four performances this evening at 7 o'clock in the auditorium! Remaining performances: Thursday, November 11th at 7 pm and Saturday, November 13th with two performances: 2 p.m. and 7 p.m. Reserve seats at fortscotthighschool.ludus.com or buy tickets at the door. Doors open 30 minutes prior to showtime. Tickets are $8 for adults and $6 for students.*
*During both lunch periods today, there will be half-priced tickets for the musical on sale in the Commons! You can buy tickets for only $3 each, cash or card!
Tiger Activities Today!
Clubs meeting during AP today: Ed Rising, NHS, Pride, Interact?
Ed Rising will be meeting in room 120 with Ms. Lewis.
NHS, if meeting, in auditorium and Pride, if meeting, room 401.
Key club will be meeting in room 120 Thursday during AP. Sign up for Chili Feed.
Art Club fundraiser order forms and money are both due at the next Art Club meeting this Thursday during AP in Mr. Amer's room, #210.
Tomorrow is the last day to turn in orders and money for the fruit fundraiser for StuCo. Please see Ms. Lewis for details.
TODAY through Sunday is KSHSAA Fall Athletic Buffer Week!
No one is allowed to be in the gyms or weight rooms before or after school.
Thanks for your cooperation!
Additionally, if you are going to participate in a winter sport: basketball, wrestling, boys swimming, powerlifting, please tell your parents the meeting for them is TOMORROW at 6 p.m. here at the high school.
Mandatory Meeting Friday!
All boys planning to play Fort Scott Tiger baseball this Spring need to attend the meeting Friday morning at 7:20 in the auditorium. If for some reason you are unable to attend, please contact Coach Josh Regan BEFORE THE MEETING!!!
Mrs. Campbell has a Veterans Day display on her classroom door, room #119. Anyone who would like to put a star with a veteran's name on it is encouraged to stop by her room and write on a star to place on the display. Take a moment this week to make a small gesture thanking veterans for their service!
Student Council is again this year doing the Thankful and Grateful activity. We will be putting up a thankful and grateful sign in the commons. Please fill out the attached form. Student Council members will put your information on a paw to be displayed. This form will let other Tigers know you are thankful or grateful for them. Students, Teachers, Staff, Administration are all invited to participate!
https://forms.gle/2pNwTnLZyiiV...
Save the date! Tuesday, November 23rd, it's the StuCo Black Light Dance! The dance is 7:30p.m. until 10:30 p.m. the night before Thanksgiving Break! Admission fee is just $5 a student and t-shirts are available for purchase. Click the link below. If you want to bring a non-FSHS student to the dance with you, please sign him/her up in the office. Blacklight Dance Flyer (1).pdf
DATE CHANGE FOR ACT PREP CLASS!
https://drive.google.com/file/...
The Class of 2023 is raising money for Prom: candy bars, $1 each, and After Prom: raffle tickets for three different meat packages.
Tickets are $5 each or 5 for $20!
Breakfast Monday: cereal, graham snack, fresh fruit OR applesauce cup, juice, milk
Lunch Monday: popcorn chicken, waffle fries, green beans, rosy applesauce, breadstick, milk
Breakfast Tuesday: Dutch waffle, fresh fruit OR applesauce cup, juice, milk
Lunch Tuesday: Mr. Ribb, baked beans, scalloped potatoes, apple, cookie, milk
Breakfast Wednesday: Canadian bacon & egg biscuit, fresh fruit OR applesauce cup, juice, milk
Lunch Wednesday: salisbury steak, mashed potatoes with gravy, sweet peas, fruit cocktail, wheat roll, milk